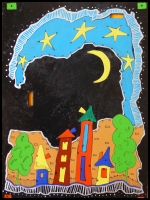 It is difficult to believe we have sold our house within 10 days after it being on the market. We cancelled everything school, insurances, resigned from work etc. Before long all of our belongings are in boxes. Generally things went to fast to actually process and to be able to depart from everything.
Our first planned journey has received an unexpected face lift. It seems as though the reality looks crazier than it is. Just like in a film when the episode starts you know what is going to happen but still you keep on watching the film. In the last 6 à 7 years our family has often changed a seemingly bad luck situation into something positive. Not bad you would think but at the time we felt there was no were out.
I believe that life is a game. The question is do you want to play the game or just be a spectator. Often I dare play the game but what I have noticed the game should be exciting hot and attractive otherwise I would become bored.
Our journey for the last 2 months has been attractive, hot and exciting. After we purchased our great looking camper trailer we thought with ease we could discover Australia. Together with our 2 small children we are a small unit of 4 members. Our wishes and expectations should be for each member important. It is not just about travelling eating and cleanliness but also everything that personally has a meaning. Activities such as writing, reading visiting libraries, museums and galleries, playing in a play ground, experiencing art and craft which can be done everywhere, yes this is our home as we know it. This would be our home in our camper trailer like nomads.
Travelling with a small tent without electricity or refrigerator is not unknown to me. Our expectation with the camper trailer was incorrect. We were expecting it to be more comfortable than we really were. We were dustier than ever before. It was a constant battle with trying to get our baggage to fit the way we wanted. Many hours were lost in organizing. Things went missing with the end result that all were exhausted. It became obvious that we couldn't keep this up therefore something had to happen.
Our belongings from Hervey Bay have been transported to a village in Victoria, Yarragon. We asked experts to give us an estimate and advice if our luggage would fit in the storage room which we have already organized. Yes they said it will fit but reality was the opposite. We received a phone call from the owner of the storage and we needed to rent a second small room. It is comical but also sad that a lot of things happen like this. Is it us or is it Australia? There is a reason for everything. Trusting things as we have done in Europe do not work here. We have learnt our lesson and we now check and double check that nothing can go wrong. We paid the firm with the big name (I do not want to mention the firm but my fingers are itching to do so) the big dollars in advance. For us it is not a problem. We give the order and we pay and for us everything should be done as promised. It seemed as though all of our belongings were just thrown in the storage. That is the reason why we decided to change our plans and drive down to Victoria to get a first hand assessment. Some of my originals paintings were torn and furniture was scratched. Two full days we were busy reorganizing and managed to easily fit our belongings in 1 storage room and for this we paid a few thousand of dollars.
At the moment I am sitting comfortably after a nice hot shower in our caravan and think……"this is the way it should be!" We are in a city called Rosebud on the Mornington Peninsula, Victoria. It is peaceful here. It's a beautiful foreshore camping ground on the kilometers white ocean sand. We wake up to the sound of the birds as the sun rises. There is an intensive odor of Eucalyptus everywhere and they are flowering
The children are free like the birds flying. They are climbing the trees and I give them a small bucket attached to a string as they pull up there yummy sweats and eat and enjoy them in the tree branches. I think about all the schools, institutions, businesses, and all shopping centers full with people and I think how simple playing can be? I slowly realize the meaning of the expression "less is more."
With our experiences we try to take things how they come. Planning is important but that doesn't mean it needs to go that way. With our European eyes we are often struggling and are confronted with the quality… with the quality of goods, service, behavior etc. During our trip we have bought many new things and it is difficult to believe how many things have failed us in the 2 months since we have left Hervey Bay.
The same happened with our camper trailer. Things just started to break down and our fears were we wouldn't get our money back what we had paid for it. But luck with bad luck we managed to get a good exchange for a new caravan.
Our new caravan our mini house, it is very cosy and we just wanted to sit inside it for the first 2 weeks. We have everything as though we are living in a house but the only difference is that things are down sized. Now we have managed everything and our travels can really start…but not yet.
After the disappointment with the camper trailer we needed to buy another car as our Toyota RAV 4 isn't powerful enough to pull our new caravan. So buying another car in Melbourne is difficult as every dealer wants to make his money. We had a small accident with our RAV 4 which devalued it for a change over. We finally found our car a Toyota Prado and the changeover was also OK.
Two month ago we left Hervey Bay and instead of still travelling in Queensland we are in Victoria. We have travelled 5000 Km and we feel as though our journey hasn't really started.
Mornington Peninsula is a beautiful region which is a mixture of France and Italy. We are enjoying the comfort and peace here. Now we happy the way things happened, the way it should be.
It is nice, a moving life of a nomad. A nomad constantly looking for a dream planet that doesn't exist! Isn't that life, just a game?
Photo Image: "One Journey - 3" by Lydia van den Berg - Zürich, Switzerland - 1995
26 October 2009, Melbourne - Australia
Lydia van den Berg