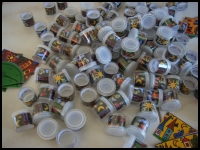 In the weeks gone by a part of my time was only busy with the promotions of my art work. I have written and sent many e-mails, have contacted many organizations and galleries. I am trying to find my direction in Australia and deeply wish to integrate as an artist with in the community.

I would like to thank all the people with their honest feedback and comments which has guided me to where I am standing today. There is nothing nicer when a project is completed and I receive complements together with nice comments from the public.

I never thought that my flyers packed in a little small plastic container with my address and web-site would spark so many positive, happy and nice reactions from people.

To be honest I saw these small containers last year in a small Chinese shop in Melbourne and bought all 3,456 of them. I was inspired by an idea to sell Australian souvenirs. These containers were going to be filled with typical Australian nature products like red sand, eucalyptus leaves, small shell etc. which the tourist could not resist. I soon realized that this idea was a little crazy and I abandoned the project. My next project is going to be "what am I going to do with the 3,456 small plastic containers?"

Today I am happy that I have them and am realizing the time has come to buy more.
Photo Image: "My Flyers" - Hervey Bay, Queensland, Australia - 2008


5 July 2008, Hervey Bay - Australia
Lydia van den Berg