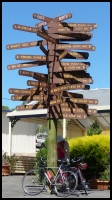 After travelling hours and days through the dessert we now find ourselves in Broome. It is hot. One is sticky and feels like being in a steam bath. The whole city feels and looks like a rain forest. Actually it is so hot it is indescribable. Simply hot! The heat reminds me of Singapore.
Broome has something exclusive which can only be experienced here. Because of the extreme heat we are looking for a paid camping with a swimming pool, cold showers and lots of electricity for the air-conditioning in our caravan. The only way to escape the heat is hours in the swimming pool and enjoy the cool water.
Hardly to believe but our neighbor is the Malcolm Douglas's Crocodile farm. Every time we drive past I see Malcolm's house, his 4X4 and so to say the hungry crocodiles. While living in Europe I have always admired his television programs and my children are aware of his adventures through the outback of Australia. I could hardly believe that the first thing we will be doing tomorrow is to visit Malcolm's crocodile farm.
I am in Broome! I never thought that I would be here.
Travelling around Australia is a huge challenge, the Victorian life style, the sympathetic hot Mildura, the change from South Australia to Western Australia and the never ending road through the dessert with the lonely road houses. The lonely Carnarvon in Western Australia, Coral Bay with its bright white beaches and turquoise warm water direct from the Indian Ocean, the mining city Port Headland, and the fascinating Pilbara district are all special moments that I will remember. Some places are so charming one could believe it is like being in a fairytale. Travelling hours on end gives me the opportunity to put my thoughts in perspective.
I experience the journey as an interesting life experience. To plan ahead to be prepared for each new situation has become a part of our daily routine. I'm surprised with the differences between cities, states, people and villages. Sometimes there have been crazy situations. I am confronted with the marketing for the local magazines and travel guides. Some towns have fantastic photos and are presented in such a way that one has this "Wow" feeling but in reality nothing really special. Other moments arise where we have seen as being European beautiful and exciting places that were not mentioned at all (strange). Yes everyone has their own perspective?
We were just recently in a situation after finally arriving at our destination, our water tanks were near empty. We tried to find water to fill them. We couldn't find water and from the locals we realized that we had to buy it. I asked myself why for example it has not been written so that travellers can prepare themselves and plan in advance to visit a town. I was thinking as being a tourist if I was really welcome or not? We stayed only for one night instead for a week.

We have travelled days through the desert. The 2 or 3 roadhouses on the way were our highlights for the day. At night when we were exhausted lying in bed we could only see the long and straight never ending road in our minds.
Life in such situations has another meaning and ones perception changes. Our days with 2 small children were not 2 parents with 2 children but as a team that need each other to stick together. Otherwise the days could be seen as a burden or unbearable. Often we spoke how little is needed to be satisfied and that the primary needs are taken care of. Travelling through the dessert has brought us to living from basic to the most basic needs without feeling as though we have missed out.
Australia is not for us the trendy land in which the hippy teenager travels. Australia is not what the books and marketing tell us.
Can you imagine how huge this continent this land is? This is thousands of kilometers were nothing is seen thousands of kilometers and you see beautiful sights which you can see in a fairytale. Our travels are a mixture as being a tourist and at the same moment as a family that lives here.
I believe everything has its reason. I have no doubts and regrets that we are here.
Our experience has shown us unspoken issues such as corruption. Not everything is dependent on the big dollars.
People need people to coexist and to develop values and morals. People need security, wellness and learning. To give our children the best and it is more than just beautiful nature, weather etc. Life has much more depth and colures. All our doubts and open questions have brought us back down to earth. We have decided to return to our roots back to Europe.
I would like to thank all my readers for the interesting feedback.
Photo Image: "The Toy Factory" - Western Australia - 2010
9 February 2010, Broome - Western Australia
Lydia van den Berg