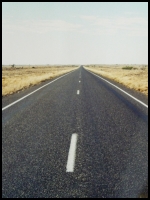 My blood is still boiling!
In my last news I wrote about our oncoming adventures to travel around Australia. Plans and reality do not always go hand in hand. It looks as though our trip may come sooner than we expected not at the end of the year as planned.
I am an artist and I see things with details.
A part of my life has been a matter of mind setting. Being simple and practical is another part. Like others price and quality need to be right and in balance. For the past few weeks we have looked at many camper trailers. All are really nice and looking good but some how something was missing. I could only see myself as a travelling horse in a cage.
When I saw for the first time our camper trailer I had a really good feeling. I wanted to start our adventures right at that moment. We are now in the starting blocks to start our journey to travel around the whole continent in safety and comfort.
Photo Image: " Australian Way of Life!" - Outback New South Wales, Australia -2008

24 August 2009, Hervey Bay – Australia
Lydia van den Berg