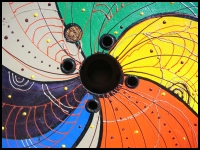 Sometimes I forget all the resources and richness's which I process in life.

In August 2006 I experienced something very strange. Suddenly I became blind. Within 1 week I lost 90% vision in my left eye. My family and I were at the time fully concentrated in organizing and preparing for our migration to Australia.

I have had many intensive sessions with the specialists at the University Hospital in Zurich Switzerland. No one could give me clear and definite diagnoses of my unfortunate situation.

This went on for about 6 weeks. I could only see with one eye which was totally different to what I am used to. As suddenly as it came within a week I regained my sight.

Today I often ask the question:"How would I have been able to paint, if I had stayed ½ blind?" Was everything just a small reminder for me to realize just how much I take for granted?

I am just healthy!
Photo Image: "Search the Form - 8" by Lydia van den Berg - Zürich, Switzerland -2006

2 August 2008, Hervey Bay - Australia

Lydia van den Berg