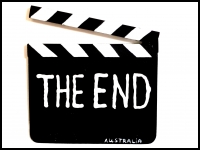 At the moment I am in the flight to Soul Korea.
I'm sitting and thinking how our life has reached full circle. In 2006 I arrived in Melbourne and in 2010 I'm departing Australia from Melbourne. Soon after a long flight I will be able to stretch my legs. Who would ever think that I will land in Soul South Korea? The children were totally excited to overnight in a Hotel with breakfast. The weather forecast for Amsterdam is cold very cold.
For the last 4 years my family and I lived in Australia. In this time I have learned to drive and I have become an Australian citizen. My Naïve Art has been developed in Australia. These facts are now a part of my life biography.
My family didn't find real security. We bought a house in Hervey Bay and hoped that our roots would grow. Unfortunately the search for that special something has transformed from being a dream into an illusion. We thought perhaps we had moved to the wrong area. We planned new strategies and the idea to travel around Australia became a new option. We had new hope that we would find this new area in which we could see our children grow.
Unfortunately I didn't experience Australia as the books and travelling guides suggest. I find it difficult to find the correct words to describe my feelings. I do not want to offend anyone and that my interpretations are not misunderstood. The images and reproductions are beautiful. Australia is an attractive continent. Sadly it is not the place for me and my family to live. Each family member has more than one passport/nationality and the choice to live in another county is possible. That includes Australia and most of Western Europe.
I am a Bulgarian citizen. I grew up in poor conditions and my life has been very intense. There exists a full pallet of memories. I remember the corruption with and within the then communistic regime. I recall for the first time when it was permitted to attend and pray in the Orthodox Church. I was then 20 years of age. I remember the times when it was better not to speak your mind otherwise you may get problems with the regime.
I remember after arriving in Melbourne nearly 4 years ago how much it resembled Bulgaria. I have tried to discuss this with the Australians but soon I realized that this theme was not really accepted.
Interesting in this time we met others also travelling some for a year others for 6 years around Australia and all experiencing this continent in their own and personal way. Everyone seems to have a different optic.
Living in Australia I have realized how dependent one needs to be and how difficult it is to retain your identity. "Be happy that you are in the system and it may get better." I have tried to come to terms in the country where my children will grow up, within this money driven country. It hurts when I was here in 2002 as a tourist it was then the country I fell in love with. Australia is the country where my children can grow up in and have a good future. It is sad when my dreams have become an illusion.
Now I am in the plane taking us all back to Europe.
I feel the strong air-conditioning and look upon my children who are relaxed, gazing at the video monitor and are counting the hours until we arrive. My daughter asks for the thousandths time when can she meet her grandfather in Holland and her grandmother in Bulgaria.

October 2009 after selling our house in Hervey Bay we set of on our trip with our Toyota RAV 4 and Camper Trailer. Our first stop was Biggerton a small town about 90 KM east of Hervey Bay. For 4 days we relaxed and enjoyed the stillness and beautiful climate. We reorganized our trailer and with the children hiked at the foot of Mount Walsh. We visited Carnarvon National Park, in Toowoomba we were the travelling family that was interviewed and Photographed by the local news paper. Exhausted with the camper trailer we experienced Lamington National Park and just loved hiking and soaking up the environment that Lamington has to offer. Our camper trailer was not what it is made out to be. It was too time consuming and the quality was not up to standard. After Lamington we drove to the Gold Coast to the factory where the trailer was manufactured. They repaired all its defects and we decided to go to Melbourne as we had heard that our belongings were not satisfactory delivered to our prearranged storage in Yarragon Victoria.
Once in Victoria we arranged that everything was correctly organized with our storage and we decided to trade our camper trailer in for a caravan and our Toyota RAV 4 for a Toyota PRADO Land Cruiser.
After this episode we drove with our new caravan and Toyota to Rosebud on the Mornington Peninsula Victoria and relaxed and enjoyed the beaches, wineries galleries and nature hikes. The Australian school holidays were about to begin. To avoid the crowds we decided to travel inland direction Bendigo to finally end up in South Australia. We spent Christmas on the banks of the Murray River near Mildura. On the beach of Rapid Bay we celebrated the New Year with a glass of Australian Champaign and in Adelaide, Adelaide Hills and Mount Barker we spent 2 weeks enjoying activities such as swimming, hiking, fishing, painting etc. We loved South Australia and the Adelaide Hills so much that we nearly bought a house. Our urge to travel was greater so on a Monday morning we decided to go west. We drove through the Fleurieu and Eyre Peninsulas crossed from South to Western Australia over the Nullarbor Pain. "Wow!" what a journey a never ending High Way and dessert on the south rim of Australia where the southern wind roar across the plains. We travelled kilometer after kilometer through Esperance, Albany, Denmark, Shark Bay, Carnarvon, Coral Bay, Port Hedland and eventually ending up in Broome.

My husband celebrated his birthday in Rosebud, my son in Adelaide and I in Perth. My daughter will enjoy her 5th birthday in Assen, Holland. It is difficult to believe but we want to return to Europe. In Broome we were totally isolated but I love the heat. It is so hot there that you feel as though you are cooking. True the swimming pool in our camping in Broome must have been the nicest swimming pool that I have been in.
Because my father-in-law suddenly became seriously ill we decided to end our journey. We heard from one of the locals that in the mining city of Port Hedland caravans are in demand and that we could get a good price for our caravan if we wanted to sell it. So we decided to go back to Port Hedland and try our luck to sell our car and caravan. But to travel back to Port Hedland isn't "easy peasy" as my daughter would say.
In Port Hedland we were a whole day on the market with our caravan where the thermometer reached 45°C. There were many people interested in the caravan but strangely enough no-one was able to find the finances needed to buy. I believe on this day we drank liters after liters of water. Without success we drove back to Victoria to our storage and to sell our Toyota and put our caravan under consignment.
Broome - Melbourne was the longest journey that I ever have made in one go and will probably be the longest journey that I will ever make. Never to be forgotten! I remember the titles in the Western Australia touristic prospect "Unforgettable Western Australia." Yes! That's true. We were hours and days in the car. Seven days without a break from morning until late at night. Seven days and 4500 kilometers and finally we were in Melbourne.
At the start I felt very grubby and not clean at all, but after a few days this feeling was gone. We were tiered and exhausted.
Late in the evening we found on our last night before Melbourne an isolated dirt road. Here we would not disturb anyone we thought. Early in the morning we were woken up by a loud sound as though a road train had driven by. We looked out of the window and to our surprise a huge yellow bulldozer drove past our caravan scraping up the road. We dressed quickly brushed our teeth and outside 2 workers wished us a good morning and helped us with directions.
That was our adventure our journey. Travelling through Australia and writing about Australia is a process in which time stands still. A huge continent without an end!
Behind us are 26 703 kilometers, 5 months or 21 ½ weeks, or 149 days to answer our question;
"Where do we belong?"

I'm sitting in the plane. I'm wearing jeans, socks and my Redback shoes and I am trying to remember the last time I wore a woolen jumper. I'm sitting in the plane and realize that my personal biography book has become a little heavier and has many new pages.
It is said: Life is movement!
I confront myself and say; "Lydia you're flying!" I contently laugh and end my news.
Photo Image: Painted Object by Lydia van den Berg - Hervey Bay, Queensland, Australia - 2008

2 March 2010, Flight Melbourne-Amsterdam
Lydia van den Berg