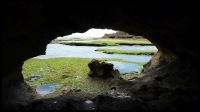 Finally this so awaited time has arrived! We are starting to experience the daily routines. Our days have more structure and clarity. The hours in which we can have an excursion are expanding. We are experiencing a feeling of enjoying the peace which seems as though it was unknown to us.
I am discovering even more and more how beautiful Australia is. Often in the evening we all go for a short walk on the beach. Always at the same beach we look at the ever-changing ocean. The ocean is a gigantic volume of water but it only takes a second to experience something to last a life time.
Three days ago at the Sorento Back Beach on the Mornington Peninsula I took some snap shots of the area. When I that evening saw the images on my computer I was astound to see how intensive the colours are. I asked myself and said, "Is it true that I was actually there this afternoon?" At the time I thought the views were interesting but did not realize how beautiful they really are.
I think that life is this way. I think I am finding myself in the situation where I need to be creative and be back in the studio to work. I am absorbing the fascinating Australia and am thankful that I am travelling in the correct direction.
We have been very busy visiting galleries. We have been visiting wineries, private studios, markets and specialized businesses in the area. Speaking with the locals it has come to my attention how friendly and open the people are. In the Mornington Peninsula one can feel the peace in the air. It is an area with tradition and culture. I have been confronted many times how people who are interested and touched by my art work. The strong and intensive colours in my naïve art fit good in this area.
Photo Image: " The London Bridge" - Victoria, Australia - 2009
20 November 2009, Mornington Peninsula – Australia
Lydia van den Berg