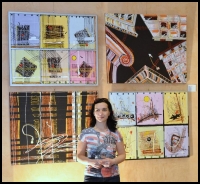 With pleasure I would like to present "Vivid Arts Network". In March 2012 an International Art Exhibition with 35 artists was organized in the Auditorium al Duomo in Florence, Italy.
For me it was a pleasure to participate and also to have had the opportunity to meet so many different artists form all over the Globe.
The collaboration with Viviana Puello was for me a positive experience which has given me new inspiration. I am excited with my second project with Vivid Arts Network in May 2012 "Unlimited Potential…Earth Vortices" at Castello Estense, Ferrara, Italy.
Warm regards,
Lydia van den Berg
Photo Image: "Florence-Italy" by Lydia van den Berg, Switzerland, March 2012

8 March 2012, Uster, Switzerland
Lydia van den Berg