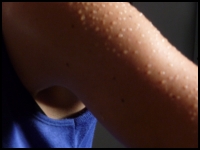 Everything has returned and is back to normal. After 1 ½ weeks of stress and unneeded panic Lydia's web-site is up and running again.
On Friday 23rd of April 2010 all data on Lydia van den Berg's web site has been lost due to a huge computer meltdown. Lydia's Gallery with over 450 images with text-poetry will be an enormous task to reestablish to its original state.
"When I saw all of the pages empty on my web site I could only scream at the computer screen as loud as I can. I cry and ask myself: Is this my life story whatever I do where ever I go due to unforeseeable circumstances I start again from scratch. The only things I can do with this frustrating situation is scream and yell at the computer!"
After months travelling around Australia and at the moment travelling in Europe - Germany, Holland, Belgium, Switzerland and France Lydia's Life has reached a new dimension. Lydia's new orientation back in Europe has given Lydia an international colorful mixture of cultures. "Life is a constant improvisation! " Lydia laughs.
For further information you can either phone or e-mail. Lydia's address will regularly be updated.
Photo Image: "A Moment" - Hervey Bay, Queensland, Australia -2009


5 May 2010, Assen - Holland
Lydia van den Berg