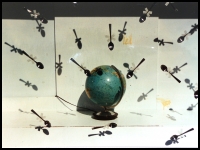 Christmas is everywhere! A celebration for everyone:
If I only knew 2 months ago I would be sitting here in our caravan with Christmas decorations. We will celebrate the Christmas days even more exceptional than in our old house.
At the moment it is warm! One wears a T-Shirt, shorts and sandals. One would prefer fresh fruits instead of Christmas cake. There is no snow! We are perspiring and remembering the "Glüh" wine which would warm us up during the cold European Christmas festivities. Everywhere we see the made in China plastic Christmas trees. It is different to what I am accustomed too.
Our caravan has been decorated. We have made colourful paper decorations in the Christmas spirit. My children have told me that the decorations are nicer than last year. We have a very special and interesting Christmas tree. My children believe that Santa brought it to us.
From our art and craft supplies I made the Christmas tree. When my children saw the tree in the morning they were excited and surprised, discussing where it came from. My son said it was something which he had wished for. Then he told me a story about a boy he had met. The day before he was with his sister in the playground and they were playing with 2 other children. They told me that one of the boys showed them a huge tree. At this tree you could wish whatever you wanted and your wish will come true but you must believe in your wish. I don't know why but my children were so fascinated with this boy and believed everything he told them. For me it is also unclear why on this evening I decided to make the Christmas tree which my son wished that Santa would bring us. And that is what happened!
Our small Christmas tree is about 20 cm tall made on a long and thick Queensland pencil. The green paper pasted on it is from Germany and the small decorations have been bought in Hervey Bay. The plate which it is resting on is a gift from a very good friend of ours in Switzerland. My daughter inspected everything thoroughly and astound she concluded that everything was made from our art and craft box.
Even though everything is different the spirits are high. Christmas is coming and we are enjoying our "Magenbrot" which we bought from the ALDI.
I give my wishes to all!
Photo Image: "Search the Form - 17" by Lydia van den Berg - Zürich, Switzerland - 1996
11 December 2009, Mornington Peninsula - Australia
Lydia van den Berg