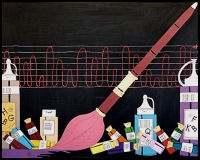 Often I have attempted to stop with my art career. I have had situations where I was so frustrated I even threw my colors away. But I know what I am like and am aware that I will eventually start painting again. Are you familiar with this feeling when you just can't let go. That is how I feel!
I am unable to simply stop and say goodbye to my creativity. My personal life biography compels me just too much. My nomadic life style allows me to travel without routes. I am free without any examples or schedule; I feel something magical within which allows me to be open myself for new adventures without any boundaries. It is a feeling that takes me to the edges of the gigantic ocean.
The End of the Ocean is my new Exhibition. These art works was exhibited in June 2011 in Manhattan, New York, USA. I have been asked by many people if I would display my art in Switzerland. For a long time I was considering how I can present my images without being repetitious?
The combination with art and fabric has fascinated me and therefore I would like to thank Daniel Krapf and Therese Schmidt for this opportunity to present my art.
Exhibition Dates: Saturday, 5th November, 2011 - Saturday, 25th February, 2012
Reception: Sunday, 20th November, 2011, 14.00 -17.00 pm
Gallery: FABRIKladen, Weisslingen, Switzerland.
Photo Image: "Biography" by Lydia van den Berg, Acrylics on Canvas, 100x80 cm, Uster - Switzerland, 2011
9 November 2011, Uster - Switzerland
Lydia van den Berg