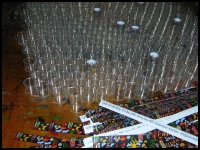 Since 2007 I have been living together with my family in Australia. The migration to Australia from Switzerland required a lot of organising, work, time and patience. Australia and Europe are two continents with huge differences and not everything was easy for me. During this period I found new energy which was strongly fuelled by my emotions. This led me to work intensively in my studio.
I have written seven children - adult stories which I would like to publish one day. Since I have focussed my energy in painting " Magical-Poetic-Realism" art I have realized just how much I have to tell. Actually these are themes that have accompanied me during my whole life which I'm now processing through my art. I have come to realise that art is the only medium in which I can express myself and this makes me feel good.
My new projects in my studio are at present abstract Paintings on Canvas and soon I will begin with the virtually unknown technique Encaustics on wood.
I am looking forward to it all!
Photo Image: "The Start" - Hervey Bay, Queensland, Australia -2008
1 June 2008, Hervey Bay - Australia
Lydia van den Berg