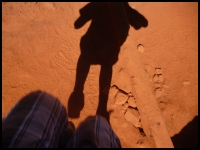 In the beginning I was dependent on my mother. I was very well behaved and thought it to be important to do things exactly as she wished.
Later I became independent and free, scruffy and shallow, as though I was flying in the clouds. My personality was developing, constantly changing and I tried to give myself a clear direction to follow.
Years later I viewed the world with the eyes of a perfectionist and wanted to present myself as I am. My feelings went up and down and I could only see life either as black or as white.
Today I can write with a little more compassion. I have seen and experienced enough, and finally understand the being of life. I have learnt to respect my life. With every experienced day now is one less until the end.
It's only human, isn't it?
Since my last news a few months have gone by. After experiencing a traumatic period early this year I can now happily say that I am feeling good. Off course my travels through California, Utah, Nevada, Arizona and Mexico have contributed to my energetic, positive outlook and well-being. The memorable journey has motivated me to plan for new adventures in the near future. I have found a new meaning for my art and I am looking forward to be active again.
Sincerely I invite you to my exhibition on 27th September 2013 at 18.30h, Soul Art Galerie & creativ – galerie.com, Limmattalstrasse 130, 8049 Zürich – Höngg, Switzerland
Warm regards,
Lydia van den Berg
Photo Image: "The Jump" by Aaron van den Berg, August 2013, Californian, USA
13 September 2013, Uster, Switzerland