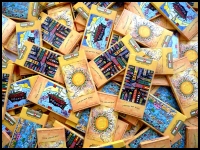 Right now I just received a huge box with 120 Chocolate Mails, with designs of my images. I feel my emotions are taking control and I fight back the tears. As a child I noticed how the neighboring children eat with pleasure bars of chocolate. While in the pastry shop I could smell sweetness in the air and with an empty mouth I tried to taste a bar of chocolate. I was rebellious with my mother because we were so poor.
I see my life as a game! Constantly new situations arise and I need to find my bearings again.
My personal biography is spicy or very sweat just like a bar of chocolate. What can be nicer than to send 120 bars of Chocolate Mails for friends around the world?
What can be better than a great www.schoggimail.com from Switzerland?
I am very touched!
Photo Image: " The SchoggiMAIL" - Zürich, Switzerland - 2011
6 January 2010, Uster – Switzerland
Lydia van den Berg