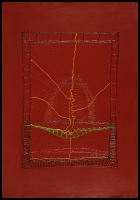 All New Exhibitions at Agora Gallery
Presented by
Agora Gallery

Agora Gallery's May exhibitions will put a spring in your step and add freshness to your day. In Gallery I, marvel at the works in Out From Down Under & Beyond: Fine Art From Australia and New Zealand. Showing considerable flexibility and experimentation in colors, style and theme, these works are the product of a shared heritage and geographical background. Labyrinth of Color presents energetic yet perfectly balanced artworks which offer a sense of vibrancy and optimism in the world. Evocative, moving and sometimes whimsical, Sensorial Realms features the work of artists who bring us images of thought-provoking and emotive glory.

In Gallery II, enjoy the lively works of No Boundaries: Lydia van den Berg / a solo exhibition. Lydia van den Berg infuses her creations with an appealing innocence as well as the vast experience she has gained from her travels around the world to produce unique, enthralling pieces.

The May exhibitions will be open from May 12, 2011 until June 1, 2011. The opening reception will take place on May 12, 2011. Exhibition Dates: May 12, 2011 - June 1, 2011 Reception: Thursday, May 12, 2011, 6:00 - 8:00 p.m. Gallery Location: 530 West 25th St, New York City Gallery Hours: Tues - Sat, 11 a.m. - 6 p.m.
http://www.agora-gallery.com/receptionexhibitions/5_12_2011.aspx
Featured Artists: Labyrinth of Color - Dominique Boutaud, Claire Champy, Cary Griffiths, Chad Redl, Ford Weisberg Sensorial Realms - Andrea Bottelli, Patricia Brintle, Rosa Ibarra, Careen Joplin Langstieh, Rania Mesiskli Out from Down Under and Beyond - Lyn Beaumont, Nicolette Benjamin Black, Kate Diggles, Steven Dix, Ember Fairbairn-Ramsay, Jane Flowers, Leigh Gordon, Joolie Green, Caroline Josephs PhD, Helene Leane, Isaac Petersen, Rebecca Rath, Alison-Jane Rice, Rebecca Saunders, Mark A J Willems
No Boundaries - Lydia van den Berg
Interviews with the artists and high resolution images are available upon request.

PUBLISHED BY City Limits, 2011
WRITEN BY Agora Fine Art Gallery and Team – Chelsea, Manhattan, New York, United States
PHOTO IMAGE To change the Ways – 29"x 21", Acrylics on French Paper BFK Rives, Solo Exhibition AGORA Gallery "No Boundaries", Manhattan, 2011