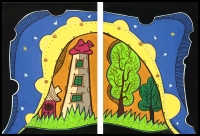 Bulgarian artist to present works in New York
By the Sofia Echo staff
No Boundaries is the title of exhibition that can be seen in the Big Apple's Chelsea's Agora Gallery (530 West 25th St, New York City) by Bulgarian-Swiss artist Lydia van den Berg. The collection will display the artist's unique pieces and can be seen until June 1 2011.
Van den Berg's style is defined as "Magical-poetic realism". She has experimented with oil on canvas, papier-mâché, encaustics, watercolors and acrylics on paper, even with gold. However, she has found her own style in the combination of colours, forms and imaginative games on acrylic and paper.
Lydia van den Berg uses clear precise lines together with two-dimensional images and bright, contrasting colours. Her exhibition re-?xplores the boundaries of what can be called home and the terrains of daily life.
"My wish is that my images can move people to search and look further than the four lines within a square," she says.
Lydia van den Berg lives and works near Zurich, Switzerland.
PUBLISHED BY The Sofia Echo, 2011
WRITEN BY Agora Fine Art Gallery and Team – Chelsea, Manhattan, New York, United States
PHOTO IMAGE Come Together -2x 12"x 17", Acrylics on French Paper BFK Rives, Solo Exhibition AGORA Gallery "No Boundaries", Manhattan, 2011